Shoplifter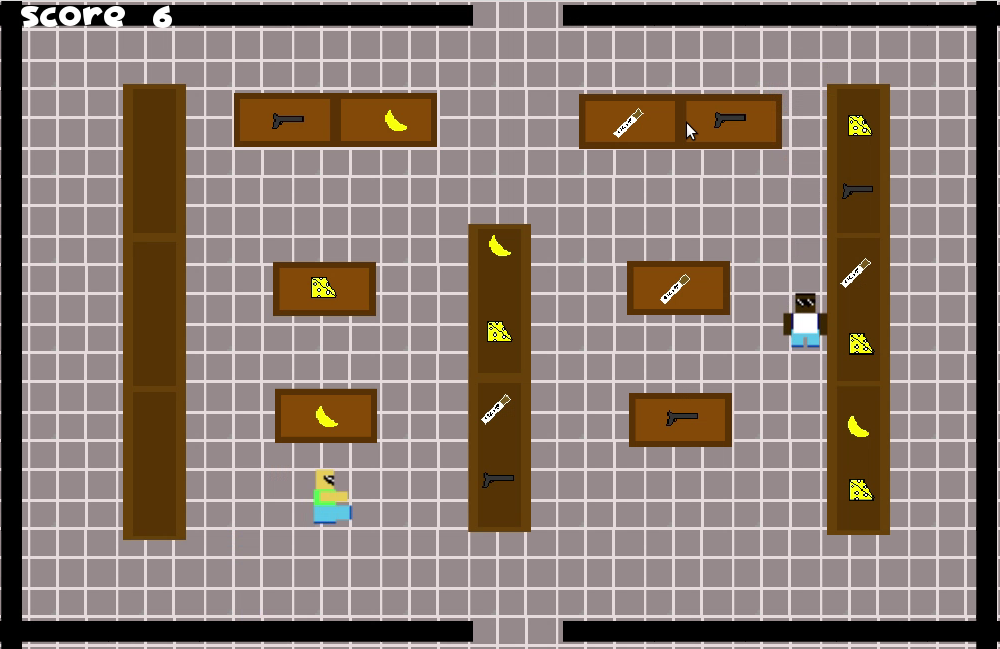 This is a game that I actually made for my English Project when I was in Grade 9. My topic was Shoplifter. I though maybe I should make a game based off my topic, so I did! Everyone was impressed especially for someone who had recently started game-dev! Anyway I decided to make a complete remake with Godot 3.0, used piskel for artwork. Music was by Rolemusic, http://freemusicarchive.org/music/Rolemusic/.
Gameplay

Player 1 is the shoplifter stealing whatever he can reach, although it's not your typical "grab and go and nothing happens" special effects occur as you steal different items.




Banana has a 20% chance of making you faster
Cheese has a 20% chance of making you slower
Cigarette has a 20% chance of making you "high" (for now, its just extremely slow speed)
Gun, shooting feature is implemented, but it's "not" really mapped to a button as it's extremely buggy right now
The effects don't end on new game! you need to reload the browser!
When Player 1 has at least a score of 12, he can leave the shop to win!
Player 2 is the shopkeeper, trying to catch player 1
System Requirements

You need OpenGL ES 3 or WebGL 2 to run this game

If your browser is not compatible, try the new versions of Chrome or Firefox
If your browser is compatible but your computer isn't, try running you browser with software rendering